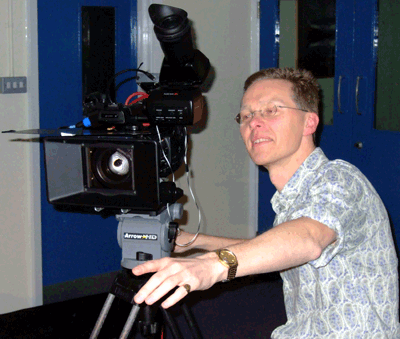 Succeeding in Corporate Videos
Your most practical way to make money making films
Corporate Video Training for Filmmakers
Backed by my 30-day money back guarantee (T&Cs apply. See below.)
Make your living making films
If you're a film-maker who wants to make your living out of making films, you can and should take a slice of the lucrative corporate video sector.
Corporate Videos (also known as "Industrial films") are a staggering £3bn market (US$5bn, €3.7bn) in the UK alone.
But, for a film-maker new to the sector, they can be a terrifying beast to tackle, fraught with hidden complexities.
You could be making mistakes you won't even realise are mistakes until you look back many years later.
More so than any other area of film-making, to succeed in Corporate Videos you need to be a consummate businessperson first and foremost.
"The course is very useful. I was impressed by the amount of preparation and planning which has gone into it. The case study video was very impressive and I am sure it will help me to understand the production process better. I also found your explanation of the business model very comprehensive, with many anecdotal ideas and useful quotes." - Anthony S
Succeeding in Corporate Videos
Sample Clips
This seminar reveals my system for success
The good news is that you can now
Get personal mentoring

Super-charge your corporate video career

Jump ahead of the pack

Succeed where others fail

Learn how to find opportunities

Break into the market

Build a successful corporate video business

Get ahead of the competition
with my 9-part video seminar!
I created the Corporate Video seminar because new filmmakers are always asking me for advice.
It's such a huge subject that I have spent more than 5 years writing and refining the course.
In the course, I teach you the skills and techniques that I have used to run a successful corporate video business since 1987.
Feedback From Previous Live Seminars
"The course was pure gold. Brian Barnes is one of the top corporate filmmakers in the UK. He showed us exactly how he had reached that position and how we could follow in his footsteps - the markets, how to penetrate them, handling clients, the tools of the trade, taking a brief and scripting from it, building the business, and more. This is a must for every filmmaker! All in all, a winner of a course."
Gordon M, Filmmaker
If I'd known this stuff, I could have saved years
I'm Brian Barnes, an award-winning corporate film-maker, and I've been making corporate videos since 1987.
When I was starting out, I was always a really good film-maker because that's what I'd learnt how to do in film school.
But I was a terrible businessman, because film school never taught me that, and I missed so many opportunities, which would have catapulted me so much further so much sooner.
If only I'd known then what I know now!
I have shot two videos at
10 Downing Street with Prime Minister Tony Blair
Feedback From Previous Live Seminars
"Interesting, informative and entertaining - whatever you think about corporates this is essential stuff if you actually want to make a living making movies. A full five stars!"
Michael W, Filmmaker
Markets & Opportunities – what they are, how you fit in, how you can exploit them

Breaking in – who you need to be to succeed, what tools you need

Growing Your Business – build it up, run it, keep track of it

Networking and Sales Tips & Tricks – including how to handle tough questions from "resistant" clients – this is probably the single most important thing you need to know

Scripting Tips & Tricks - what makes a good corporate video script

Case Study – a detailed look at the making of a corporate video – the pitching process, proposal, script, shoot, edit

plus much, much more
The videos run for over 4 hours.
I share with you the lessons I have spent a lifetime learning.
I've designed the seminar to teach you what I wanted to know when I was in your position.
Episode 1 - Laying Out the Plan - an overview of the course content and structure

Episode 2 - Finding Your Opportunities - a survey of the huge market opportunity to make corporate videos

Episode 3 - Understanding Your Market - a look at the sort of people you'll be working with in the corporate video sector, plus a few thoughts on how to find work and how to cope with the market's ups and downs

Episode 4 - Breaking Into Your Market - detailed tips and tricks for what you need to do to approach your chosen market and start to carve your niche in the sector

Episode 5 – Managing the Video - a collection of tips on how to take a brief, how to write a script, how to handle the production of the video (including interviewing tips) and how to manage the client

Episode 6 - Running Your Business - tips and techniques for how to track down prospects, how to get a pitch meeting with them, how to make the pitch, how to make the sale, how to think about your business growth strategy

Episode 7 - Growing Your Business - tips and techniques to grow your business, including the best ways to improve your networking by devising an effective networking pitch, and handling objections and crisis situations

Episode 8 - Analysing a Video - a detailed break down of a case study video - how it was pitched, written, shot, edited, re-cut and delivered. This episode consistently gets the best feedback from previous course owners, because it's so packed with killer content.

Episode 9 - Summing Up - a refresher of the key learning points, plus some final inspiration to get you enthused and ready to start building your corporate video business.
I am based in London, UK. In the videos I talk about my experiences in the European market.
However, the principles I discuss are general and can be applied in ANY marketplace anywhere in the world.
The videos are densely packed with information and techniques, which will help you in every area of developing your corporate video business.
Feedback From Previous Live Seminars
"The course highlighted an approach to growing an income earning business in the corporate video market, offering many insider tips and first hand experience of dealing with corporate clients - a very different breed from filmmakers. If you are thinking of, or are in the early stages of developing a corporate video company, then this course will give you perspective and many useful case studies that will stand you in good stead. Recommended."
Steve P, Filmmaker
Why you should buy this course
This course is perfect for you if you're a film-maker who wants to fast-track your business, raise your game and avoid the mistakes you are inevitably making through lack of professional experience and knowledge.
However, if you're a more experienced film-maker wanting to move into corporate videos from another sector, this will also be a helpful course.
You should NOT buy this course if you have NO film-making experience at all.
Feedback From Previous Live Seminars
"The course was very informative for the aspiring filmmaker in providing sources of alternative income, whilst still holding a camera, with useful tips on how to diversify and grow the list of potential clients."
Sylvie B, Filmmaker
Shooting an interview
for a corporate video
Why I can help you succeed
I have made videos for 3 of the world's Top 5 brands - Apple, Google & Microsoft – and I won the Snippies Editor's Choice Award for my video for Intel.
I currently shoot about 50-100 days per year for high-profile clients throughout the UK and Europe in many sectors, including Financial Services, Pharmaceutical, Medical, Food, Charitable and Training organisations, among others.
My track record includes over 500 hours of live TV, 2 feature film co-credits, and 23 short films, which have won awards and been sold to TV around the world. I am in post-production on my first solo feature film.
I am a graduate of the Royal College of Art Film School and am a member of the Directors' Guild of Great Britain.
Feedback From Previous Live Seminars
"The seminar provided a very good understanding of working in the corporate sector, and it's very helpful to know the vast opportunity and how to face it positively."
Chris H, Filmmaker
Build your corporate video career
Feedback From Previous Live Seminars
"The course was good - very good. Will going on the course make a difference? Yes."
Brendan D, Filmmaker